We like to enhance the creative exchange between people, wake up the pleasure for an alternative way of communication. Our vision is to concentrate on the inner feelings, while composing – like in music sessions. These are for us inspiring experiences and the incentive to create sensual, constructive and connective environments, like software tools, participative installations, sound design, workshops and music.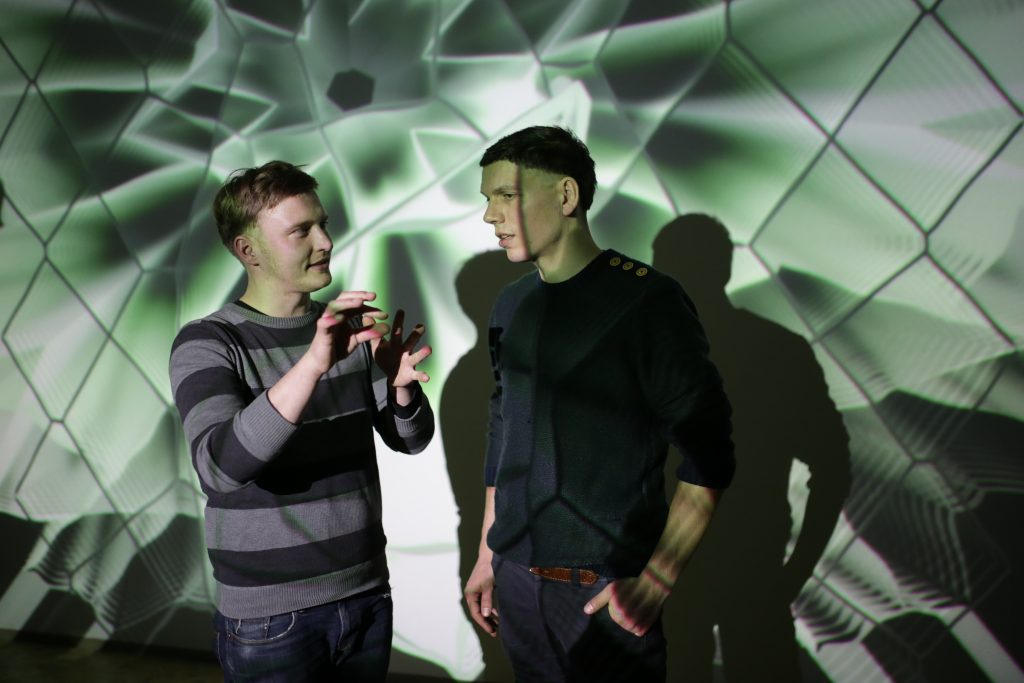 Stephan Kloß & Jakob Gruhl (photo by Clemens Jurk 2017)
We met each other the first time as young teenagers in 1999 in Bautzen (Germany) and started to make hiphop music together. Supported by a plenty of friends, we began in 2012 to combine the development of the MazeTools prototype with live performances and studio sessions. We tested the software in different ways: we did multichannel projections for concerts and parties, integrated it into a 12.1 tone chamber concept, connected it to tracking modules and used it as an instrument for compositions and in sessions with musicians.
In 2016 we launched the first Beta of MazeTools for iOS and Android. Supported by the start up service in Halle (Germany), we received a scholarship for innovative technology by the Investment Bank of Sachsen-Anhalt (ego.-Start Gründerstipendium). In 2017 we founded the Ectoplastic UG (haftungsbeschränkt), a company for development, design and distribution of multimedia products.
Stephan Kloß
...is a multimedia designer, artist and programmer. Within his studies, he researched principles of generative production and was mostly fascinated by the relations between music and geometry. He developed prototypes for visuals, spatial audio and tracking based audiovisual performances. The animated short movie "Geometric Poetry" (2011) was the trigger for his idea of MazeTools. The intention to include therapeutic approaches into creative acting in general, brought him to alternative ways of designing and programming.
Find more works of Stephan on Kloss.media
Jakob Gruhl
...is a cultural scientist, audio engineer and intermediary between creative and structural contexts. Within the scope of his diploma, he wrote about testimony and contemporary witnesses in exhibitions as participative elements. He worked as editor for an online video agency, gave music workshops for children and teenagers and was involved in different exhibitions as technical support and sound designer. Besides, he did lots of electronic music, performances and sessions with instrumental musicians. Jakob is responsible for the operative business of the company.