Laboratory
Beside our development on Mazetools we've been involved in the production of music, sound design, installations, video mapping, visuals, animation, concerts, av performances. We love to make audio experiments and to give workshops. Ectoplastic is characterized by passion and behind it is perhaps more art and technology than science and business. One intention of our projects is to use touch devices, sensors and connective environments as tools, which can mediate the joy of gathering musical experiences and creative exchange - offer a space for participating processes of creating something vivid, personal, situative, impulsive and in any case positive.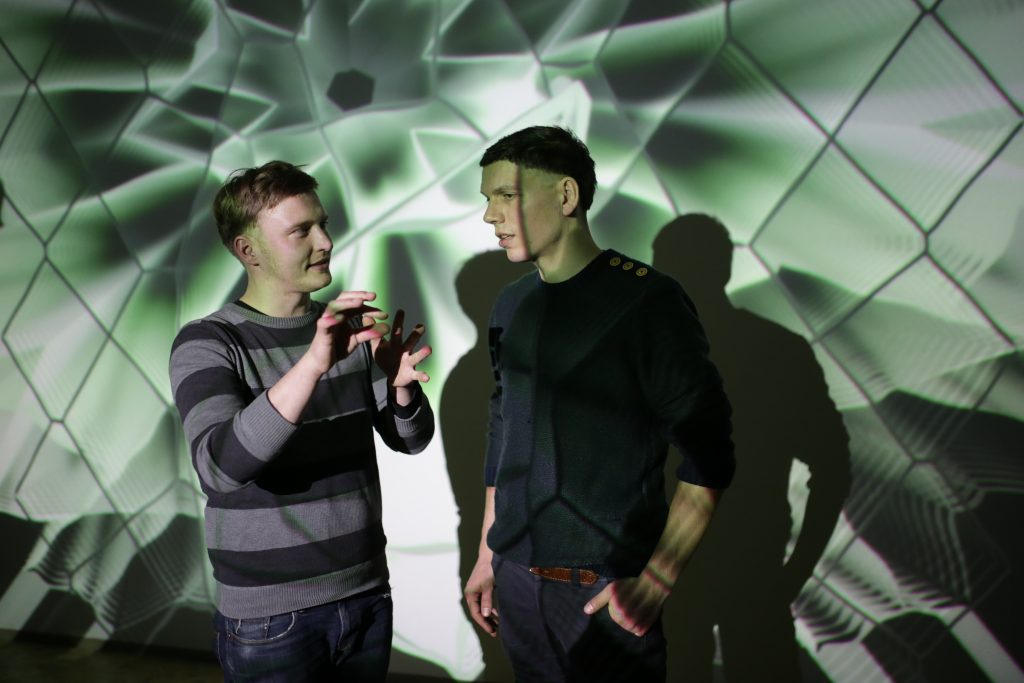 Stephan Kloß & Jakob Gruhl (photo by Clemens Jurk 2017)
Friends & Partners
We cooperate with musicians, artists, programmers, photographers, graphic designers and many others. Since 2016 we started to focus on the distribution of Mazetools and were promoted by Saxony-Anhalt and the European Union.

Stephan Kloß
...is a multimedia designer, artist and programmer. Within his studies, he researched principles of generative production and was mostly fascinated by the relations between music and geometry. He developed prototypes for visuals, spatial audio and tracking based audiovisual performances. The animated short movie "Geometric Poetry" (2011) was the trigger for his idea of MazeTools. The intention to include therapeutic approaches into creative acting in general, brought him to alternative ways of designing and programming.
Find more works of Stephan on Kloss.media
Jakob Gruhl
...is a cultural scientist, audio engineer and intermediary between creative and structural contexts. Within the scope of his diploma, he wrote about testimony and contemporary witnesses in exhibitions as participative elements. He worked as editor for an online video agency, gave music workshops for children and teenagers and was involved in different exhibitions as technical support and sound designer. Besides, he did lots of electronic music, performances and sessions with instrumental musicians. Jakob is responsible for the operative business of the company.