The history of our Mazetools project goes hand in hand with various activities of our multimedia studio Ectoplastic Laboratory. Our audio / visual software development works hand in hand with services and artwork in the form of immersive media formats, spatial audio, live performances, visual mappings, compositional motion control, sound production, and workshops on electronic music and hip-hop, music apps, and digital media education. Ectoplastic has branches in Halle and Leipzig. Our work is characterized by a passion for musical and visual experiences and creative exchange.
Die Geschichte unseres Projekts Mazetools geht einher mit verschiedenen Aktivitäten unseres Multimedia-Studios Ectoplastic Laboratory. Unsere audio / visuelle Softwareentwicklung arbeitet Hand in Hand mit Dienstleistungen und Kunstwerken in Form von immersiven Medienformaten, räumlichem Audio, Live-Performances, visuellen Mappings, kompositorische Bewegungssteuerung, Tonproduktion sowie Workshops zu elektronischer Musik und HipHop, Musik-Apps und digitaler Medienbildung. Ectoplastic hat Niederlassungen in Halle und Leipzig. Unsere Arbeit ist geprägt von der Leidenschaft für musikalische und visuelle Erfahrungen und kreativen Austausch.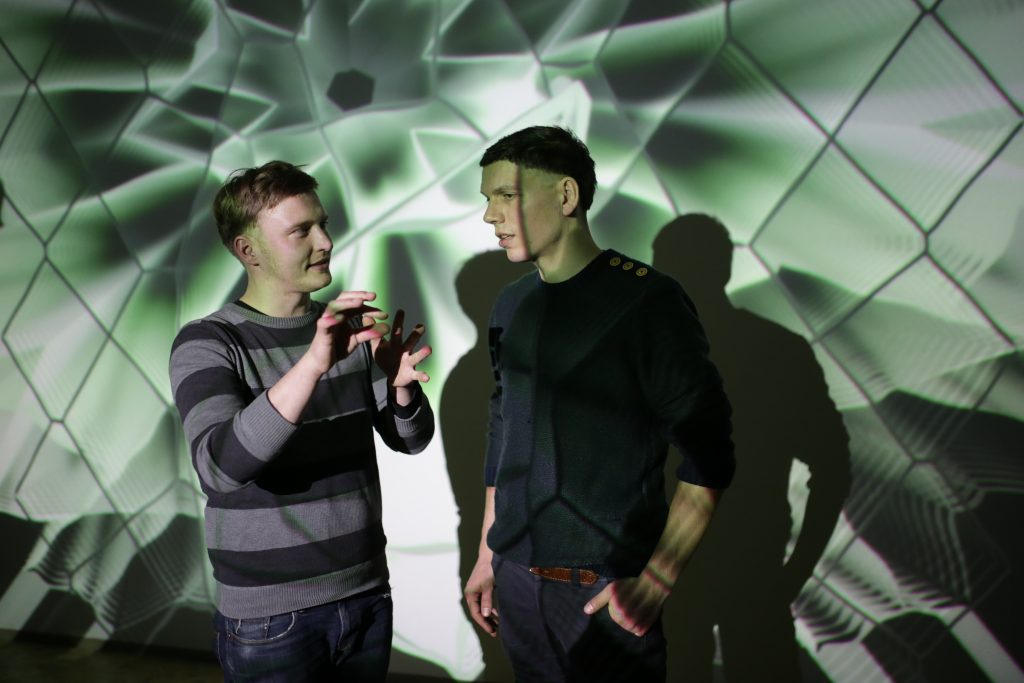 Stephan Kloß & Jakob Gruhl (photo by Clemens Jurk 2017)
Stephan Kloss
born in 1985, is the creator of Mazetools. The developer, artist and musician studied Multimedia & VR Design in Halle (Germany) is contiously working on hybrid applications between sound creation and multi-sensual interaction. Find more works of Stephan on Kloss.media
Jakob Gruhl
born in 1986, is doing administrative and public relation work around Mazetools. The musician and sound designer studied Museology and gives workshops around electronic music and rap for young people. Jakob lives in Leipzig (Germany) and is involved in various cultural and media art projects.