Ectoplastic is a company for experimental audiovisual applications. One focus is the development of interactive audio environments, VR & game audio, visual & sound design as well as av performances.
With the beginning of Mazetools development in 2011, the two founders Stephan Kloss and Jakob Gruhl crossed borders to the area of new media art and music technology. Beyond the release of Mazetools Soniface 1.0 in 2017 many explorations did follow with version 2.0 in April 2019: ranging from multiple projection methods, spatial audio to motion tracking. During the work on Soniface is still in progress, recent projects were taking place in VR context, collaborative environments as well as digital music education and intercultural musical collaborations. We are based in Halle and Leipzig (Germany).
Ectoplastic ist ein Unternehmen für experimentelle audiovisuelle Anwendungen. Ein Schwerpunkt liegt in der Entwicklung von interaktiven Audioumgebungen, VR & Game Audio, Visual- und Sounddesign sowie AV Performances.
Mit dem Beginn der Mazetools-Entwicklung im Jahr 2011 haben die zwei Gründer Stephan Kloss und Jakob Gruhl Grenzen im Bereich von Medienkunst und Musiktechnologie überschritten. Nach der Veröffentlichung von Mazetools Soniface 1.0 im Jahr 2017 folgten mit der Version 2.0 im April 2019 viele Untersuchungen: von mehreren Projektionsmethoden, über räumliches Audio bis hin zum Motion Tracking. Während die Arbeiten an Soniface noch im Gange sind, fanden in jüngster Zeit Projekte im VR-Kontext, in kollaborativen Umgebungen sowie in digitaler Musikvermittlung und interkulturellen musikalischen Kooperationen statt. Wir sind in Halle und Leipzig verortet.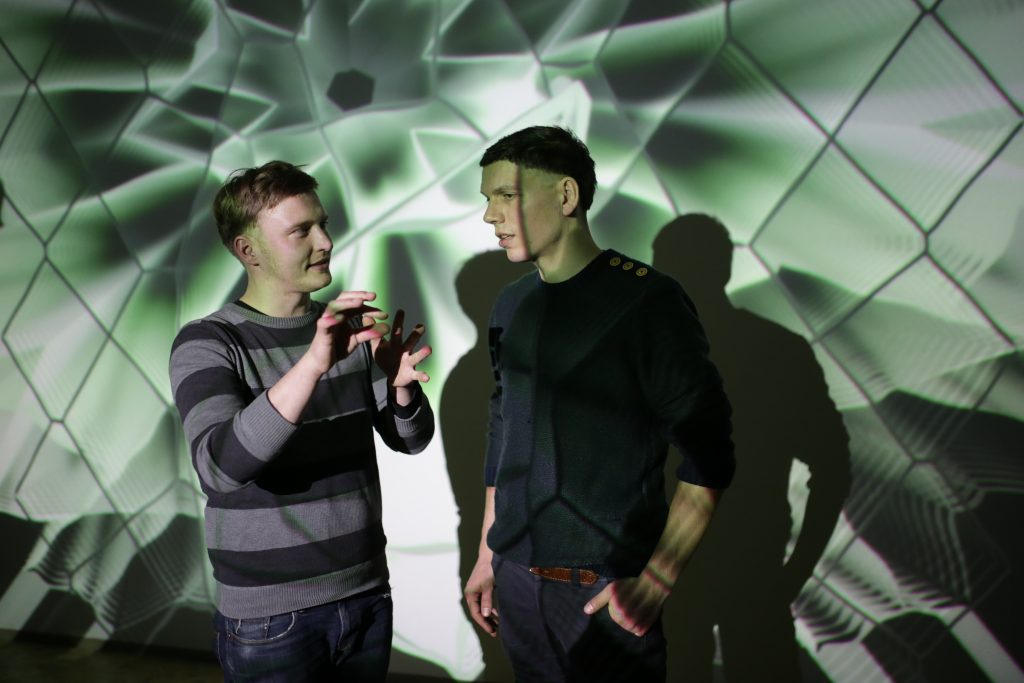 Stephan Kloß & Jakob Gruhl (photo by Clemens Jurk 2017)
Stephan Kloss
born in 1985, is the creator of Mazetools. The developer and musician studied Multimedia Design in Halle (M.A.) is contiously working on hybrid applications between sound creation and multi-sensual interaction. Find more works on Kloss.media
Jakob Gruhl
born in 1986, beside administrative and public work around Mazetools the musician and museologist (Dipl.) gives workshops around digital music education. Jakob lives in Leipzig (Germany) and is involved in various cultural and media art projects.